Online Sales Training Course
Slow Down, Sell Faster!®
Better Trained Salespeople.
More sales.
Engaging, self-paced online course with MasterClasses to drive B2B sales performance.
Watch this complementary 8-minute lesson to preview the Slow Down, Sell Faster!® sales training course.
Research-backed sales training for increased top-line revenue growth.
Say goodbye to "drink-from-the-firehose" massed, 2-day seminars
Built-in MasterClass sessions with Kevin Davis, President of TopLine Leadership. (Author of "Slow Down, Sell Faster!")
10-min video lessons that work seamlessly into your team's day-to-day sales workflow.
Develop an action plan that can be implemented immediately.
Focus on the buying process for better understanding of why you win, and why you lose.
The Delivery Model
Our online sales training program is the result of over 25 years of sales and sales leadership training for Fortune 500 companies.
Slow down sales conversations to move customers through their buying process faster.
Purposely counterintuitive because it works!
This training is easy to use which increases adoption rates.
It's a complete sales process framework, covering everything from the initial prospecting call to post-sale customer satisfaction.
See how our Online Sales Training helps you
What's inside our online sales training program?
Self-paced Lessons
This program is divided into 36 lessons, each lasting a little over 9 minutes on average. Salespeople can complete these lessons at their own pace, on their own time. Activity exercises and module quizzes included.
6 Expert-Led MasterClasses
Structured sessions led by the author to ensure the highest level of engagement, adoption, and retention.
Tools for Ongoing Sustainment
18 application tools included in this sales training make this course easy to use, and provides tools your salespeople can immediately apply.
---
What successful Sales Team Members have to say about our program
"One of the most positive & productive sales trainings I've done. Content was relevant and applicable."
"I appreciate the program and all of the great tips to slowing down with the sales cycle."
"I think you (Kevin) are doing a fantastic job in explaining the steps and conveying the information to us. Truly enjoyed the webinars."
Let's talk about how we can help you lead your salespeople to greatness.
Fill out this form to schedule your consultation.
Frequently Asked Questions
What is the total time commitment for my salespeople?
Most people should be able to complete the self-paced courses in 8 to 9 hours. The MasterClasses will be an additional 6 hours total time to complete the program.
How can I evaluate whether this program is a good fit for my organization?
Start watching the complementary lesson included on this page. Then use our contact form to schedule a 30-minute conversation with the program leader, Kevin F. Davis.
Do you offer a Train the Trainer option?
Yes, please use the contact us form to inquire.
Can we get progress reports?
Yes, if you choose a facilitated delivery. Twice-monthly reports are included in that package.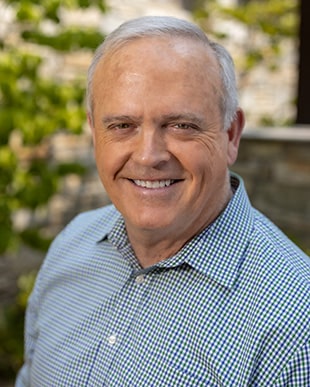 About Kevin F. Davis, Founder and President of TopLine Leadership, Inc.
Kevin F. Davis is the founder and president of TopLine Leadership, which is a leading provider of sales and sales management training programs.
Kevin helps sales organizations implement consistent processes for improving sales and sales manager performance. Kevin's approaches, skills and tools are described in his two most recent books:
"Slow Down, Sell Faster!" provides salespeople with a consultative sales process linked to a deep understanding of the buying process. It's an especially effective approach for high-stakes sales involving multiple decision-makers that deliver big rewards.
"The Sales Manager's Guide to Greatness" provides sales team leaders with the core framework they need to lead and coach a sales team to achieve exceptional results.