Sales Training and Sales Management Training
TopLine Leadership's customizable sales and sales management training programs improve sales rep performance and drive up sales manager productivity.
The frontline sales manager is the most powerful point of leverage in every sales force. Our program provides:
A consistent approach to sales team management
A shared language around key sales management competencies
Sales coaching skills and tools
Based on our award-winning book Slow Down, Sell Faster!, our program provides:
A consistent, repeatable sales methodology focused on the customer buying cycle
Skills and tools to improve opportunity identification, qualification, discovery, solution design, sales presentation and closing skills
Optimized sales team performance
We offer a variety of resources for developing your sales management leadership skills:
Award-winning article "5 Things Proactive Sales Managers Do Differently"
Other articles that provide insights for improving your own sales management skills
How to develop a customer-focused sales process and create a sales playbook
Attend a Sales Coaching & Leadership Seminar
Atlantis Casino Resort Spa
Reno, NV
September 13-14, 2017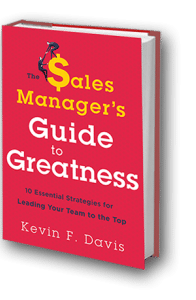 Available Now: The Sales Manager's Guide to Greatness
With more than 30 years of experience, Kevin F. Davis, president of TopLine Leadership Inc, a leading sales and sales management training company, closes the gap between the intent of wanting people to succeed and actions needed to actually make it happen in his new book, THE SALES MANAGER'S GUIDE TO GREATNESS: 10 Essential Strategies for Leading Your Team to the Top (Greenleaf Book Group Press, March 28, 2017, hardcover, $24.95).
Leading a Sales Team Requires a Completely Different Mindset from Selling…