Harness The Power
Frontline sales managers are the most powerful point of leverage in every sales force—if they can do their job effectively. TopLine Leadership Sales Management Training provides tools and techniques every sales manager needs to become a top-performer. LEARN MORE
About TopLine Leadership
TopLine Leadership is the premiere provider of sales management and sales team training. Established by leading authority and sales management training thought leader Kevin F. Davis in 1989.
READ MORE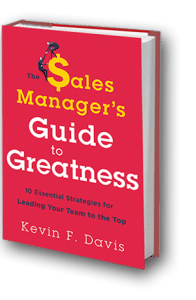 Available Now: The Sales Manager's Guide to Greatness
With more than 30 years of experience, Kevin F. Davis, president of TopLine Leadership Inc, a leading sales and sales management training company, closes the gap between the intent of wanting people to succeed and actions needed to actually make it happen in his new book, THE SALES MANAGER'S GUIDE TO GREATNESS: 10 Essential Strategies for Leading Your Team to the Top (Greenleaf Book Group Press, March 28, 2017, hardcover, $24.95).
Latest Blog Post
TLL-Admin
Not long after I became a sales manager, I inherited a second team from a manager who was "de-hired" as the saying now goes. On this inherited team, there was one rep who was a [...]
Sales Coaching and Leadership Workshop
This sales management training workshop is a fast-paced and well-structured program that features a comprehensive set of sales management skills and tools for maximizing your leadership leverage and results.